Barbara Royle
(née
Speakman
) is the wife of
Jim Royle
, with whom she has two children,
Denise Best
and
Antony Royle
. She is also the daughter of
Norma Speakman
and the mother-in-law of
David Best
and
Saskia Royle
. Through Denise, she has a grandson,
David Best
and a granddaughter,
Norma Best
, and through Antony, she has a grandson,
Lewis Royle
and another grandchild, whose name is unknown.
Personality
Edit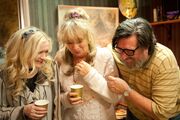 As the wife of Jim, Barbara is a busy and hard-working housewife. Every Sunday, she cooks all the family a Sunday dinner and also every Christmas, she cooks them all a Christmas dinner, whilst her "couch potato" husband sits in his armchair watching the telly, doing absoultely nothing to help her. Barbara has always been a great mother to Denise and Antony, supporting them all the way in whatever they do. She has a really close bond with her daughter, although she is nothing like Barbara. She was supported by Denise whilst she was working at the bakery and whilst going through the stress of the menopause.
Appearance
Edit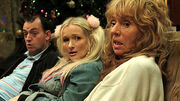 Barbara is known for wearing jumpers and cardigans along with leggings, jeans and skirts. She is also well known for wearing her pink watch, her glasses on a chain and her pink slippers. Her hair is either half up and half down or up. Barbara's hair starts off brown but then gradually becomes brown with tints of grey. She has blue eyes just like her daughter.