Comic Relief Special 2013 is a charity episode of The Royle Family, broadcast on Comic Relief.
Plot & Broadcast
Edit
The Royles, Jim Barbara and the Bests Denise and Dave are gathered around Jim's chair with the Christmas dinner in the background. Denise speaks first, telling the audience that there are less fortunate people in the world. This is followed by Dave issuing the audience the number slowly, with looks of doubt from Jim and Barbara, Barbara then speaks for everyone that they will be donating and Jim as an outburst unbelieveably that they will be, while Barbara slaps him.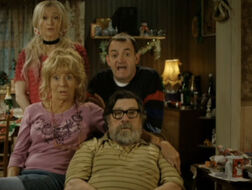 Full Transcript:
Denise: "Apparently, there are people in the world less well off than us. Please give as much as you can to Comic Relief. Here's Dave now with the number.
Dave: 0-3-4-5-7-9-10-9-10. That last bit again, 10.
Barbara: We're all giving as much as we possibly can, aren't we?
Denise & Dave: Yeah!
Jim: Are we? Bloody hell Barb!
Barbara: Jim!
This short episode didn't actually appear on the Comic Relief telethon, although it was advertised at the beginning and a small clip appeared on the end montage at the end of the telethon. The full version can be seen on the rednoseday YouTube channel. It was obviously filmed around the time of filming 'Barbara's Old Ring' Christmas Special of 2012 , with the Christmas table and decorations in the distance.
Community content is available under
CC-BY-SA
unless otherwise noted.