Norma Speakman

Norma Speakman in 2000

Birth Name:

Norma Jean Speakman

Date of Birth:

1916

Date of Death:

2006 (aged 90)

Duration:

1998-2006

Occupation:

Retired

First Appearance:

Sunday Afternoon

Last Appearance:

The Queen of Sheba

Portrayed By:

Liz Smith
Norma Jean Speakman ("Nana")
(1916-2006) was a character in
The Royle Family
.
History & Personality
Edit
Norma Speakman was the mother of main character Barbara Royle and grandmother to characters Denise Royle and Antony Royle.
She is introduced in the third episode having come round for Sunday Dinner with her family. From the offset she is presented as quite hypocritical, loud and outspoken as she compliments her daughter's chicken yet instantly remarks that she's "not keen on chicken". Her constant commentary over The Antiques Roadshow irritates her son-in-law Jim as she claims to have owned all the antiques on auction.
She next appears in the sixth episode of Series 1 as the family prepares for the wedding of daughter Denise to husband Dave. Throughout the episode she continues to irritate her family through her frequent demands for piccalill spread for a sandwich. She also stresses over her need to change her shoes after the wedding ceremony for the reception, which Barbara classes as a trivial demand.
She appears in the second episode of Series 2, as the family prepare for a Sunday lunch. Once again, the tensions between her and her son-in-law Jim heighten as she rambles on about unimportant subjects including a boat ride with Elsie and a husband and wife's rivalry in Kwick Save.
She next appears in Episode 4 and remains asleep for most of the episode as she has a patch over one eye after having a cataract operation and is staying at the Royles' resident during her recuperation. During this time, she is constantly berated by Jim who accuses her amongst other things of being a "greedy old cow" through her refusal to share a bag of Revels with him earlier that day. Once she wakes, she incessantly enquires about an advert she cannot recall with "a man dressed as a chicken" which is likened to the Chicken Tonight advert, provoking Jim to arise from his chair and escape down The Feathers with Dave.
She then appears in Episode 6 when she attends Antony's 18th birthday party. She arrives with Dave and Denise and makes the situation awkward when she finds out Antony's girlfriend Emma is a vegetarian, constantly enquiring to Barbara as to whether she can have some cheese or "wafer-thin ham".
In Episode 7, set at Christmas, Norma is sat with the rest of the family on the sofa watching television. Apart from scoffing Dates and and knocking back snowballs, she complains to Jim when he turns over Noel Edmonds, remarking that she liked "Noel Crinkly Bottom".
In Series 3, Episode 4, Norma is inconsolable at the death of her next door neighbour Elsie. She incessantly repeats herself throughout the evening by remarking that "I thought I'd always be the first to go, you know" which annoys Jim. Leading to him calling her a "vulture" as she contemplates rifling through Elsie's drawers and wonders what will happen to her telly, non-stick pans and fully-lined curtains. The evening comes to a head when after turning over Emmerdale's theme tune at its conclusion, Jim begins to berate Norma over her secret hatred of Elsie and conniving attitude in order to move in permanently to the Royle residence.
In Episode 5, Norma makes an unexpected appearance halfway through the episode when she comes in from the toilet, leading Jim to wittily remark: "It's not Halloween, is it?" During the episode, she hands Antony £3 after finding out about his upcoming trip to London and has a laughing fit over Joanna Lumley and "slippers" resulting in her farting unexpectedly, causing the family to erupt into laughter once she has left.
In Episode 6, she appears at Baby David's Christening.
In Episode 7, she joins the family at Christmas and tries to make friends with Emma's mum Valarie, although she remains unsuccessful when she gets implants confused with "eggplants".
In The Queen of Sheba, Norma is revealed to be bedridden and living in the Royles' back room. Despite this she continues to aggravate Jim when she takes the batteries from his TV remote control for her portable fan, causing him to go ballistic and sulk childishly in the kitchen. Jim also criticises her desire to have her flat "laminated throughout" and denies his need for the same. A decision which is later reversed when Jim, Twiggy, Dave and Little David lay down the laminated floors, to Norma's pleasure. Her granddaughter Denise gives her fake nails and she tells Denise that when she dies she wants her funeral to be "fun". A few weeks later, Denise gives birth to her second child, a daughter which they name Norma after "Nana".
Later on, Norma is found unresponsive by her daughter Barbara in her bed one morning and she is rushed to hospital. She wakes up momentarily to see her family gathered around her and she dies peacefully later on. At her funeral, Jim gives a respectful speech to Norma and gets out the banjo as they fulfil her wish for her funeral to be "fun".
Appearance
Edit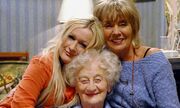 Norma was often seen wearing flowery dresses and cardigans with either black or white shoes. Her hair started off grey, but gradually went pearl white. She loved to wear pearl earrings and necklaces.
Norma died in 2006, aged 90, as a result of old age.